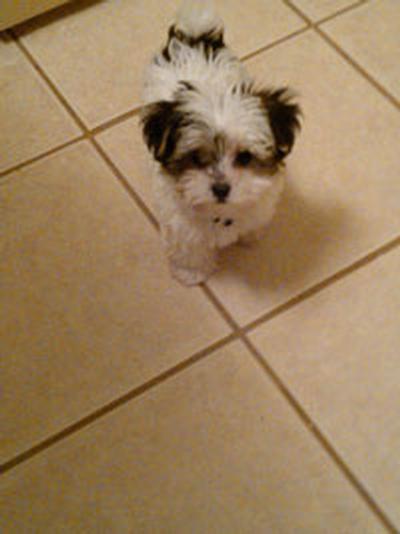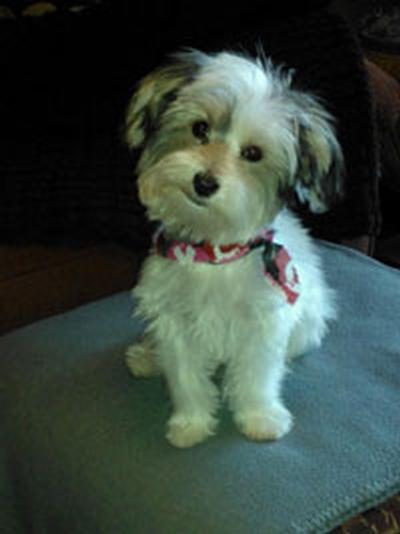 Date: 2-8-13
Tara Carlson

Hi Kimberli,


Jagger is almost 5 months old and has the most Amazing Personality! He's a social butterfly and loves to play with other dogs, big or small. He's completely potty trained on the wee wee pad and is healthy & strong. I can't express how much joy he has brought into my life!!

You were so easy & friendly to work with and answered any and all questions I had. Jagger's trip to FL was a piece of cake. He was so calm when he arrived. I have attached two pics.

I can't thank you enough!!
Tara


Hi Kimberli! Just wanted to let you know that Kona is doing well and settling in just great!!! We love our new family member! Thanks again for everything.
Manda S. Stamm
Kimberli,
I just wanted to drop you a note and let you know how much we love our little chocolate drop!! We named her Georgie and she is such a sweet and funny puppy.
You may remember but I had just lost my sweet dog and it was really hard to think of getting another one ý but you were right and getting Georgie has helped. She makes me laugh and she is always so excited to see us.
She has finally won over our other poodle, Lulu - which was no easy feat! We all love her! She is so playful and full of energy and very social! Everyone loves her and she loves the attention!
The vet said she is in great health and she gained 2 oz. What a big girl she is ý 2lb 2oz!
Iým attaching a couple of photos so you can see her ý she loves to stand at the door and look out while she growls at our lab, Ty! He pays no attention but she really gives him grief!
Thank you so much for raising such precious puppies!
Thanks,
Jana and Rick Castleberry and Claudia
Hi Kimberli!
Izzy seemed like her trip was just fine, and we are completely, totally, 100% in love! She is absolutely the most precious thing any of us have ever laid eyes on! We opened the door to her kennel and let her take her time coming out. It didn't take her long, and it was as if she'd known us forever. I thought she'd be exhausted, but she jumped around and gave all of us kisses. We gave her some water, she went potty, and then she snuggled up on my lap in the car and was out like a light.
She seems to love her new home. She's so curious!
She's eating, playing, sleeping, and even doing great with pottying outside! She's only had one little poo poo accident. My 6 year old said it was so small that it was CUTE! My 9 year old swears she's already potty trained! (We've been trying to take her out at least every hour when she's awake).
She slept well last night in her crate (on my nightstand). Wimpered for 30 seconds or so at first and then slept until 5:00 this morning. I took her out, she went potty and right back to sleep! :)
WE ABSOLUTELY ADORE HER!
THANK YOU SO MUCH!!
Tracy
Good Morning,


We thought we would send you a picture of our baby....she is doing so good and has the run of the house now:) We are so happy and thank you for giving us such a wonderful addition to our family:) Jennifer Hunnicutt:)

Little Bonnee Bleu is doing great - so playful and gentle and absolutely the most incredible little thing I've ever seen. Thank you so very much for raising her to be so precious.
Sandy
I am so in love. He is so beautiful and he is immaculate. Thank you again.
He is starting to warm up to my son and me already, I love how he wiggles his tail, his whole butt goes. I made him up a bed in our room with a puppy playpen. He has so many toys he doesn't know which one to play with. I went to petsmart before I picked him up, he is everything you said and so quiet but very happy. My girl submitted to him and he really enjoys her, but wants to be with us more right now.
I have to go get him a bed for the car, I am going to take him everywhere once he gets used to us first.


Thank you so much again


Melissa
Hi Kimberli,
Thanks so much for your email today. Susie Q is doing just great with our family! She is healthy and strong and adorable. She loves her partner Buddy to pieces. They play all day long together.
We really appreciate your professional touches (LOVE your business cards, too! LOL!). Thanks again for everything!
Andrea
10/31/11
Hey Kimberli!
I just wanted to send you a picture of Stella and Lucy. I got both of them from you 4 years ago and we just love them to death! The one with the green collar is Lucy and in the pink is Stella. Lucy is the boss of the two. She has a very dominant personality. Stella is laid back and goes with the flow. They are so much fun. I am attaching a picture!
Thanks Again,
Lisa Musso
08/04/2011
Hello, Kimberli. Magnus is doing extremely well. He is the typical Scottish Terrier; however, he has learned to walk in a harness with leash. He is close to being potty trained. I am having him neutered this morning. He loves playing with his toys, being outside, playing with other dogs, and playing with people. He is a great dog! I want to thank you for providing me with such a great dog. You normally have to visit the breeder to get some insights into the puppy and his parents. I did not have to do so because of your excellent raising of these dogs. Take care, v/r,+ Christopher L. Stevens
06/12/2011
Hi Kimberli,
I want to truly thank you for our little Minnie Belle.
She is such a social butterfly and everyone that meets her falls in love with
her. She is a year and half old now and loves to get all dressed up and go out
with us. Recently we took a trip to PA to visit my sister. As usual Minnie Belle
was the center of attention. One lady wanted to have her picture taken with her
because she wants one just like her, and I gave her your contact information.
While in the restroom at the airport a woman asked me to take Minnie Belle out
in the hall so she could show her husband the kind of dog she wanted, and I
gave her your contact information, too. Minnie Belle loves to fly in planes and
ride in cars, as long as she's all dressed up. She has a closet full of clothes!
I make all her clothes so we make lots of trips to the fabric stores. It always
takes me twice as long as I planned to leave the store because everyone wants to
see her.

Thank you again,
Veronica
From: Fort Worth, TX
06/12/2011 ~ Scottish Terrier, Female
She is outstanding! She's fitting in perfectly, and we're all already
in love! Thank you so much for making this process completely painless
and hassle-free.

Thanks again,
Karen
(03/31/2011)
Brody and Izzy

Hi Kim!
I can't tell you how happy we are with our puppies that we purchased from you last summer. They are almost a year now so I thought I would send you a picture. We take them everywhere with us, and I can't even begin to tell you how many people I have sent to your website! So when you hear about the crazy couple in Waco, Tx that had their dogs in a stroller at the store, it is probably a safe bet that it is us!

-Stacy

(04/04/2010)
Hi Kim

I wanted to thank you so much for our little guy. We decided to name him Max. He
is just doing great! When we got home Thursday night, he just come in and acted
like he owned the place, made himself right at home. I was surprised, he even slept
through the night. He had a blast at work with me on Friday. Max received so much
attention that he was just eating it all up. He would stand at the doorway of the office
and wait for someone to come by, then run out to greet them. Max is doing very good
with his potty training. He loves going out in the backyard and playing. He keeps
going to the backdoor and looking out.

Then there is Max's personality. OMG, he definitely has the personality and he is not
afraid to show it. I think that he is going to give his sisters a run for their money.

Again, thank you so much. Max, although it has only been a few days, has already
helped to ease the pain and sorrow that we have felt with the loss of Tavish. I am so
thankful that we decided not to wait.

I will keep you updated.

Thanks You
Tenea & Joel Andersen
Lexi is quickly learning how to be part of the Clark family.
She visited her new vet yesterday afternoon.
The Dr. verified that she is PERFECT, which we already knew.
She was a little reluctant to eat until we visited our neighbor,
a 2 yr old Yorkie Emma.

Lexi made herself quite at home, including eating Emma's dinner.
Lexi is sleeping in a puppy pillow bed with aýfaux fur blankie
cuddled next to a stuffed puppie.

She has slept from 10:00 pm to 5:00 am both nights.
(These are my hours so it is quite convenient).
I am hoping Lexi is as happy as we are!
Georgiana
---


Hey Kim,

Just wanted to give you an update on Bella.
This is the most precious puppy ever!
She has really made herself at home around here.
On Saturday when I got home, I put her down in the kitchen
and she immediately went right to her bed to check it out.

I have her this really nice hotel room.
She has a 2 x 6 area that I have set her up with to sleep in.
I keep the door open and she goes in and out as she wants.
She has the roam of the house. I have her a toy box with all of her oh about 30 toys...just kidding.
Anyway, night one went really well.

She played with Bailey all night and when I brought her home at about 9:30 p.m.
she went right to her bed and crashed. She slept til about 1:30 in the morning
and I took her out to tinkle and she came right back in and we played for a while,
she then went back to sleep and slept til about 6:30 Sunday morning.
I couldn't believe it.
I slept on the couch just to keep an eye on her and she didn't whine one time.

Same thing last night too.
---
You were right, she's a frisky little thing.....
she plays and plays and plays.
I can't thank you enough. she's soooo precious!!!

I'll send pictures soon.
She had another play date with Bailey last night and Sandra took lots of pictures.

Take care and thanks again!

Jennifer

P.S. She's eating like a horse.
---
Hey Kimberli,

I just wanted to say "thank you" once again for helping me
purchase my baby "Rumer". You have been truly wonderful
and I appreciate the time and effort you took in giving me
insight on how to care for her.

I am very impressed by your warmth and love
not only toward your yorkies but to me as well.

Little Rumer is a healthy, happy and socialable baby
just like you said. She is so full of life!

Ive received so many comments on her already.
She is so gorgeous.




I feel confident and will let my other friends know
how pleasant you were to do business with and I highly recommend you.
I look forward to keeping in touch with you.

I will also send pictures to keep you informed on how well she is doing.

Thanks A Million

LaChelle Brown
Plano, Tx 75093
09/22/08Date: 1-9-08
---

Kim,
I just wanted to thank you again for the pups.
They have grown into 2 young ladies with very different personalities.
Here are a few pictures of them with my daughter Sophia.
Lisa M


---
Date: 1-9-08
Kimberli,
This is Diane Wallace, your neighbor across from Sugartree,
who bought the yorkie for my daughters birthday.
This is the first time we have had a yorkie and we are totally
amazed at the energy and love of this precious little dog.
She is incredibly spoiled, cries to be held, gives the best kisses
and already has a great little wardrobe. She is potty trained to
a pad because she cannot go outside just yet. She is fearless and
I'm afraid of the pool or deer pens due to her enormous size of 2.2lbs.
She has brought immense joy to our family and I just wanted to say thank you.

I have and will continue to recommend you to our friends and family for future puppy purchases.
Thank-you,
Diane W
---
Date: 10-23-07
Hi Kim!

Thanks for checking on us.
The ride home was so much better than the ride down.
(made it home in about 3 hrs) It was so worth the trip.

This little girl is a fireball, she eats like a trooper and is afraid of nothing.
She is the cutest darn thing and we all love her so much.
She did not get car sick at all, and she has adapted to us and our home so quickly.
It's like she's always been here. What a huge difference between her and Fendi.
It has really made us see how sick Fendi was right from the start.
We have named her Princess Prada. We love the way she prances around so,
her name couldn't be more appropriate. I have to tell you, Kim, we absolutely love you.
It?was sooo good to meet you and?your family as well, and it's so?nice to find a?
B
reeder who is doing things right.
You were a God send after what we have been through with Fendi and her breeder.
We won't buy from anyone else?but you. In fact, we are probably going to want a little sister?
For Prada sometime early/mid next year.
Also, send me a few more of your business cards.
We are going to place them in Kevin's Saturn dealership.
I think I told you that Kevin is?the GM of Saturn of OKC?
And has been with Boob Moore Auto Group for almost 10 yrs now.
So, if you are ever interested in buying a Saturn, call him, he'll make your trip here worth it.
Please feel free to use us as a reference for anyone who is hesitating buying from you.
We are happy to do it. Anyway, ......back to my baby.
She has her first visit with our vet tomorrow at 4:00 PM.
I can't wait for them to see how adorable she is!

Thank you for having us in your beautiful home and puppy nursery!

Michelle V
---
Date: 11-22-05
Esther Ruiz from Rialto, California
Here are a couple of pictures of my baby. I am so happy with the purchase of my puppy.
Kimberli made me feel very comfortable with the purchase and shipping.

Thank you Kimberlie.
---
Date: 11-30-05
Chris and Rachel from Dallas, Texas
I would like say thank you for a positive experience and the treatment
Chris and I received in purchasing our new Yorkie puppy.

We are more than pleased with not only our puppy, but also how knowledgeable
and accomodating you were in our search for our new addition. Once we arrived at the nursery,
we were able to see the variety of males, females, sizes, colors and it helped us become more
familiar with what we were looking for. Your females/studs were all well kept and good looking dogs.
We were pleased in getting the opportunity to see them, as this gave us and opportunity to make our choice
based off of their sizing. This also gave us the ability to see our puppy in his own "element" as we immediately
were able to choose our puppy, not only based off of his character, but what size, characteristics we were
looking for.Thank you for not only being patient with us and emailin g pictures to us, but for accommodating us
by meeting us again yesterday evening - as we were so excited to get him. We were delightfully surprised
with our goody bag, accompanied by his paperwork and "instruction manual".

Chris and I couldn't be happier with our new addition and our experience in purchasing him.

Sincerely,

Rachel
---
Date: 12-2-05
LaKeah Whitake, Chesapeake, VirginiaHello
My name is Benjamin and my mother LaKeah Whitaker
from Chesapeake Virginia adopted me on November 17, 2005.

I am in good health and I currently weigh 2.6lbs.I have been looking for a Yorkie
for about one year now and while I was online I found one from Kimberlis Kuties.

I had few doubts about buying a puppy online from a person and for buying a Yorkie
for such a reasonable price; however, after reviewing her website and speaking to Kim
all of my doubts went away.

Kim made herself available and anytime I needed to speak with her I was able
to either by her cellular or home number which definitely put me at ease immediately.

In addition, now that I have Benjamin, she still makes herself available.
I purchased Benjamin online on Thursday, November 17 and he arrived safely on Tuesday, November 22.
He had his first Vet appointment on last Saturday, November 26, 2005 where the Vet stated he was in good condition.

Benjamin is truly a joy to have and I recommend anyone to purchase their puppies from Kim.
They are well treated and in good condition.
This is my very first puppy so I had a lot of questions.
If you are interested in purchasing a Yorkie I recommend to purchase
The EVERYTHING YORKSHIRE TERRIER BOOK by Cheryl S. Smith and to consult with your Vet.

Both resources has made it very easy to get my puppy acclimated and has helped me be able to care
for Benjamin the best way I could.I recommend anyone to purchase from Kim because I am truly pleased
with the service I received.

If ever you want to contact me to please don't hesitate to get in touch with me,

LaKeah Whitaker
Chesapeake, VA
lakeah99@yahoo.com

P.S. Tip:
After the long flight, please be sure to give him lots of love and attention.
Also make sure that after you pick him up from the airport that you crack your window a little bit in the event that he may be carsick.
Benjamin didn't get sick in the car but he was a bit "stressed".
Just imagine you traveling for so many hours you too will be a bit "stressed".
It is okay and traveling that distance has not stopped Benjamin for hopping in my car.
---
Date: 3-8-06
Karen Walker, Crowley, TX.
Thank you for the positive experience with buying our yorkie.
He if very happy and healthy. At first I was skeptical buying a pup from the internet,
but after talking to Kim numerous times on the phone and meeting her when we got our pup,
it has been nothing short of a great experience. She is very knowledgable about the breeds and
she sells and gives specific instructions when you take your new puppy home.

Even after we brought the puppy home, she has been available on the phone and e-mail
with any questions I have had. This is the second purchase I have made from Kim
and I will continue to recommend her to anyone who wants to purchase a new puppy.

Thank you Kim!
We love our newest addition to the family!!!!
---
Date: 08/08/07
Amber Kramer of Ohio


Kim - I just wanted to say thank you so much for the ADORABLE little
jacket/harness and leash!!! It is too cute! That was so nice of you to
send that with the puppy!

I'll email you a picture of "Remy" (we finally picked a name) with her
new family. She's doing very well. She has the sweetest disposition.
Our Westie is great with her - they play hard, but she's very gentle and
puts up with very sharp teeth! The only down side is I feel like I have
a new born baby again since I've been up twice each night!

Thanks again for everything -- we love her to death!

Amber
---
Date: 08/22/07
Phil of Texas

Hi Kim.

Blake has named Teekoýs girl-Molly.
She has become the hit of the neighborhood-all the kids are coming around to see her.
Very playful and sociable, she has really bonded with Blake and the whole family.
Saw vet last Saturday-Molly checked out just fine.

One question maybe you can help us with:
Any advice on helping her sleep through the night?

She has been waking us up crying-from about 3:30 to 4:30 this morning,
for example. She is sleeping in a large dog travel kennel and has her chew toys with her .

Take care-we love the new Scotty baby!
Phil
---
Date: 2-25-08
Beverly Hill Kim, I wanted to thank you for your time yesterday,
I appreciate your changing your plans to meet with us.

Your facility is beautiful and all of the dogs and puppies looked extremely healthy and happy.
We are so excited about our new baby and are trying out names for her.
I will let you know when we decide on one.

Thanks again,
Beverly Hill
Feel free to email me

beverly.hill@drillers-supply.com
---
Date: 2-28-08
Shinelle K. FranklinThank you so much for the pictures,
Milo's so adorable I can't wait to shower him with love,
it's been such a pleasure purchasing Milo from you and I greatly appreciate your answers to my questions, you are truly patient and I would definitely recommend you to anyone I come across. Thanks Kim I look forward to meeting you as well!!! Shinelle K. Franklin LVN/LPN ~~~~~~
---
Date: 6-29-08
Wendy L. Rosenthal

Hi Kimberli,

How are you doing?
I wanted to send you a few pics of Marley and give you a little update.
She is doing extremely well and is the talk of the town.
Everywhere we go, everyone wants to hold her.

She has truly brought some life into my other dog Miles as well as myself
(She is a little busy body)--:)

They are INSEPERABLE!!!
One will not go without the other. I want to truly thank you for Maley.
I recvd the card with her picture the other day and I thought that was sooooo cute!
I will be getting pics done of Marley and Miles in a couple of weeks and I will send you one of course.
Again THANK YOU from the bottom of my heart.

The Rosenthal Clan,
Wendy, Miles and Marley!


---
Date: 1-20-16


Kimberly, It was a successful delivery. I signed for Dash at 5:47 pm. He is one beautiful dog. When I got home from the airport and presented him to my Mother, I told her to turn around and open her eyes when I say to do so. When she did, I said ýHappy Birthday Momý and the look on her face was priceless. She actually started to cry. Rest assured Dash will be loved to pieces in this home. I fed him the food you packaged and he drank some water. He took a short nap and got up and ate a little more and drank a little more water. We will all be turning in for the night shortly. Dash will be taken to our long time friend and veterinarian for a 10:00 am check-up tomorrow morning. Kimberly, I really appreciated the way you conducted your business. You are very thorough and very pleasant to deal with. We just want to say, ýThank You, Thank You, Thank You for this little bundle of joy!!! Warmest Regards! MJ
---
Date: 08/09/2016
Picture's of Miss Darby (Belle) Barron
Hello we just want to share with you some pictures of our precious Miss
Belle!ý She is so adorable and we love her so much!!!!ý We don't know what
we ever did with out her!!ý She has been such a blessing??
Sincerely,
Sharon Barron
---
Harley is the GREATEST dog ever! Thanks for holding him for me, I'm sure happy I snatched him up!

---
Hi Kim. Dont know if you remember me but Im Lisa Hernandez...my hubby and I bought Zoe from you in June 2014. Just wanted to update you. She is doing so great! Shes very smart and goes to work with me every day. I work at a school so she brings so much joy and happiness. Here is her Christmas pic!
---
I am more than pleased with my new little Yorkie that I got a few days ago. Kimberley was right about everything that had to do with my little boy. He is exactly what I was looking for and I couldn't ask for more. Any questions I had were always answered right away with honestly. I would highly recommend anyone that is looking for a Perfect little Yorkie from a trust worthy breeder to not hesitate & feel safe going to KimberlisKuties you will not regret for Buster is the most healthy, Precious, Gorgeous, & one Happy Puppy.
He is a lil bundle of joy in a Big package & is everything I expected him to be & more.
Unfortunately due to circumstances beyond my control we had a horrible time trying to clear funds thru my bank for pmt to her... yet Kim never became rude about the delay in her not getting paid on time, in fact she was quite the opposite in that she was patient, supportive & reassuring me all would work out very soon ! She was there for all my grief. I truly believe most would have backed out selling him to me and sold to someone else.
Thank you again Kim for all of your kindness, trust & bringing alittle more happiness into our home in the country.

Buster fits like a glove.
Chanelle
---
Here's" LITTLE MISS PAISLEE " we got her from you on 4/29/2015 & she's getting ready to have her 2nd birthday on 2/24 we just adore her & everyone thinks she is gorgeous everywhere we go everyone just goes crazy over her. We just wanted to let you see how she turned out & tell u thanks again for such a beautiful baby thank you. Crystal Williams & Chris Dailey.🐾🐾🐾🐾
---
Hi Kim,

I just wanted to send you a quick note and tell you that we ABSOLUTELY LOVE sweet little Neymar (Gunner). He is absolutely adorable and my kids are in love with him! He is doing so well with the puppy pad training.

We Love Him!!!

Thanks again!!!
---
Hi Kim!

Just wanted you to know we love our Poppi so much and so does her big brother, Tucker! Thank you so much for allowing us to bring her to our home❤️
Ginny Hogan
---
Hi Kimberli! I wanted to write to you about our Parti Yorkie Finn. You sold this little guy to us 3 weeks ago when he was almost 5 months old. I have to say first that we have never considered having a small inside animal until now. After doing some research on this breed we realized that a Yorkie would work great for our family since he is hypoallergenic and doesn't shed like other breeds. When we arrived to your place and set down to talk, we felt very comfortable in the consultation with you. You didn't make us feel any pressure to purchase but just simply gave us the facts about the pup and answered any questions we had. Our 12 year old daughter fell in love from the moment she held him. So, now a few weeks later he has proven to be exactly what our family needed. All of us shower him with love and can't wait to get home to cuddle him. We wanted to say thanks to you for being so helpful in this process. We would highly recommend your services to anyone. The Felts Family
---
We just went to the vet, and no surprise he said heýs the cutest puppy heýs seen in a while!!! Also, I picked a name (yay). His name is Tuxedo (ýTuxý).

---
Kimberlies Kuties only accepts credit cards and PayPal.